Welcome to UK Spares, a leading supplier of hot water boiler spares.
We understand the importance of keeping your hot water boiler running smoothly and efficiently. Whether you're a homeowner, business or professional engineer, our wide selection of quality spares ensures you can find what you need to maintain and repair your hot water boiler.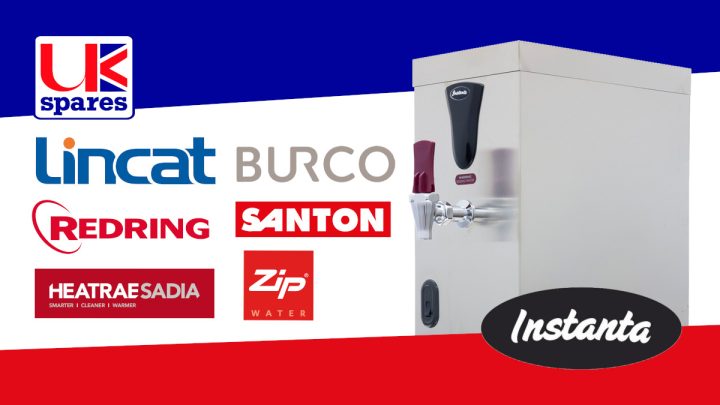 We're proud of our extensive range of hot water boiler spares as well as being able to quickly provide parts in stock, from our impressive network of suppliers. UK Spares, we've got all of your water boiling needs well and truly covered!
Why Choose a Boiler Part From UK Spares?
We remove the need to replace a full boiler for the sake of a broken element, lever tap or solenoid valve.
Our team use their years of knowledge and expertise in order to identify the correct spare part for each individual request.
Our spares span commercial, domestic and industrial units- from small offices to busy canteens and households.
Which Water Boiler Brands Do UK Spares Stock?
We supply genuine spare parts for a large range of hot drinks water boilers, including:
The leading UK manufacturer of water boilers that specialise in making hot drinks, UK Spares stock genuine Instanta water boiler spare parts for several units- from the compact CT range to the heavy duty WB2 model. In addition to offering genuine Instanta parts we also offer complete replacement Instanta hot drinks water boilers should you wish to order a brand new unit.
The UK's largest manufacturer of electric water heating products, Heatrae Sadia boasts a comprehensive range of products. Covering all bases, UK Spares stocks genuine parts, with everything from outlet taps, to PCB control boards and element gaskets.
Manufactured to the highest standard and featuring advanced features, such as built in water filtration and on-board diagnostics, Lincat offer a wide choice of models suitable for a whole range of different catering needs. UK Spares stock a number of parts, from filter catridges to stats and lever taps to elements.
Offering advanced electronic systems and high quality manufacturing, Redring products cover industrial, commercial and domestic needs. Parts from UK Spares include Corvette & Aquaboil, SB Professional and Sensaboil SB2.
Featuring fast heat up times, energy efficiency, sophisticated electronic control and neat and compact design, Zip has an impressive range of units. Following suit, UK Spares boast a comprehensive range of spares for everything from the perfect office accessory- the drinking water chilltower- to the sleek and stylish HydroTap.
If you're struggling to select the right part, then fear not – UK Spares has a team of people with the know how – helping you choose which part should go where. For more information call us on 01454 620500